In its 70 years of existence, Formula 1 has seen all kind of crazy people check in. More than 1,000 drivers tried to race a Grand Prix but less than 800 of them had that chance. Today, let's talk about an outcast.
Usually, successful drivers earn a kickass nickname during their career. Take a look at Kimi "Iceman" Räikkönen, Michael "Red Baron" Schumacher, or Mika "Flying Finn" Häkkinen for instance. But none of those nicknames truly inspire fear amongst the competitors. Do you really think Stirling Moss shat himself trying to overtake Mike "Butterfly" Hawthorn? Who are we kidding?
Well, maybe that one guy was kind of menacing: Ricardo "Cuchilla" Londoño-Bridge.
TÍO SAM
A driver nicknamed Cuchilla. "The blade", litteraly. First off, it doesn't make me think of some nice piece of driving, it frightens me. Looking closely at his background, you just know this driver is different from the others. After all, his birth certificate states:
8 de agosto de 1949, Medellín, Colombia
Medellín? Sounds oddly familiar…
We know very little about this driver. We don't even know if "London Bridge" is actually his real name. However one thing is sure, he's financially supported by the Colombian coffee promoting organization Fedecafé and an anonymous rich guy named Pablo.. Emilio… whatshisface.
Even his driving ability is unknown! When he leaves Colombia for the Estados Unidos at the end of the seventies, local newspapers assume that he was killing it in stock-car racing but nothing more.
Anyway, Londoño-Bridge choses a completely different category in America. The 30-year-old races in IMSA and finishes seventh in the 1980 Daytona 24. An American car dealer and his Pablo friend, a drug dealer, follow him along the way as sponsors. The same year, Londoño-Bridge runs his own team in Can-Am and ends up twelfth in the standings.
MILAGRO INGLÉS
Maybe with the help of la blanca, Londoño-Bridge competes in a third championship in 1980. He flies to Britain to race in the last round of the Aurora AFX Championship. However, he has no car. Colin Bennett meets the Colombian and comes up with an incredible deal that only a pendejo could refuse: a Lotus 78 chassis for peanuts.
But a picture is missing from this story. The car may have won 7 Grands Prix in F1, it's a three-year-old open-wheeler that should have been burried in an F1 cemetary… twice. In June 1980, Gianfranco Brancatelli destroys the car. It takes two whole months to repair it. Then, the 78 gets totalled by Désiré Wilson when a wheel bearing fails at full speed.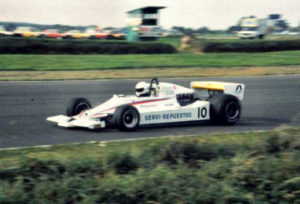 It had to happen, Londoño-Bridge crashes in Free Practice. He comes out unscathed, quite strangely. The car however… This coffin on wheels is repaired once more for the race. And the Colombian is doing miracles behind the wheel. They say you never forget your first time… Well, during his first outing in a single-seater, he finishes seventh! Bennett is truly impressed and makes Londoño-Bridge his protégé.
ENSIGN Y BILLETICO
Meanwhile, Morris Nunn, founder of the modest Ensign F1 team, desperately needs dineros. During the 1980-1981 offseason, Colin Bennett becomes a shareholder. Quickly, he has the talk with Nunn. Bennett tells him that he knows an incredible driver with a muy interesante potential.
Ensign hired Marc Surer to compete in '81 but the team sidelines him in favor of Ricardo Londoño-Bridge for the second race of the season, in Brazil. The Colombian lands in Rio with the intent of racing in Jacarepagua alongside the big guns. He shows up, shakes some hands and asks one question and one question only:
Mo Nunn didn't plan to die on that day in particular so he takes the money right away and puts Londoño-Bridge in the car. The Colombian doesn't have to lose any pounds to fit in it, however he did lose a couple of benjamínes in order to race. But before, he must participate in a special testing session and earn the holy superlicence.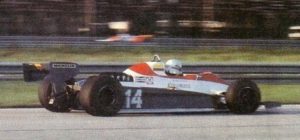 ¿SUPERLICENCIA?
To say the least, the Colombian amazes. He's driving an outdated car but clocks the eighteenth best time of the session. Being four seconds shy of Carlos Reutemann's best time, Londoño-Bridge leads Nelson Piquet, René Arnoux and Jean-Pierre Jabouille, three titles and 32 wins between those three! And even better, his pace is similar to Andrea de Cesaris'. No need to introduce him though.
This performance may have shut some mouths, it left Keke Rosberg unimpressed. At that time, the Finn was racing for Fittipaldi, a meh team. Annoyed by the Colombian, he brake-checks him and inexperience does the rest: the Ensign driver crashes into the Fittipadi. Did Rosberg act like a douche because he felt threatened by the rising star? We will never know.
The incident is enough for the FIA to deny Londoño-Bridge the superlicence. The Colombian will not race on Sunday although he already paid a large amount of money for it! In a race against time, Mo Nunn rushes to every hotel in Rio looking for Surer. He finally finds the Swiss, slightly tipsy, the night before qualifying. And on raceday, Surer scored the fastest lap and finished fourth! It was also the first points for Ensign since the 1978 Canadian GP.
RECICLAJE PROFESIONAL
What about Londoño-Bridge in all this? His F1 career only lasted an hour. He may have said that he rather die driving motorcycles in Colombia than in a jail cell in a crappy F1 team but we don't really believe it as it doesn't make any sense at all. Londoño was then seen in Formula 2 in 1981 and in IMSA from 1983 to 1985. He should have taken part in the 1986 Daytona 24 alongside Diego Montoya, Juan Pablo's uncle, but he withdrew at the last moment.
The Colombian retired from motor racing to focus on the more friendly activity of drug trafficking. It is believed that Londoño-Bridge got substantially closer to the local narcos in the 1990s. And in 1998, the police found more than a ton of cocaine hidden in one of his properties. A few years later, in 2009, he was gunned down by the Urabeños gang. The former driver was shot twelve times, however the accident theory was not ruled out of the equation by the police.
Sadly, Ricardo Londoño-Bridge isn't part of the (almost) 800 lucky ones that raced in F1. All it took was a rookie mistake to deny the very first Escobar-sponsored Colombian driver a seat! A missed appointment with history.
---
Why don't you clock the fastest lap on Formule moy1 Facebook page and Twitter account? You won't miss new articles when they (eventually) drop!