Ask a Formula 1 fan about the first Grand Prix held in the Middle East and he'll give you this self-confident answer: "2004 Bahrain GP". Even though he's absolutely right, and besides the fact that he's showing an untolerable air of superiority, his answer hides an untold story… And it's time to pull the blinds on that.

According to calendars, three Middle Eastern countries have hosted a Formula 1 race since the creation of the world championship in 1950:
First off, the Kingdom of Bahrain in 2004.
Then Turkey, from 2005 to 2011.
And finally the United Arab Emirates via Abu Dhabi since 2009.
Three venues for three relatively close dates, all of them located in the XXIst century. Schizoid men will tell you however that Formula 1 cars have already raced in the Gulf well before the new millennium…
TRUE/FALSE GRAND PRIX
To be as precise and honest as possible, a false Grand Prix was held in 1981! Back then, the UAE celebrated a decade of existence. And the local "Al Nasr Motor Sports Club" was preparing an unforgettable automobile celebration.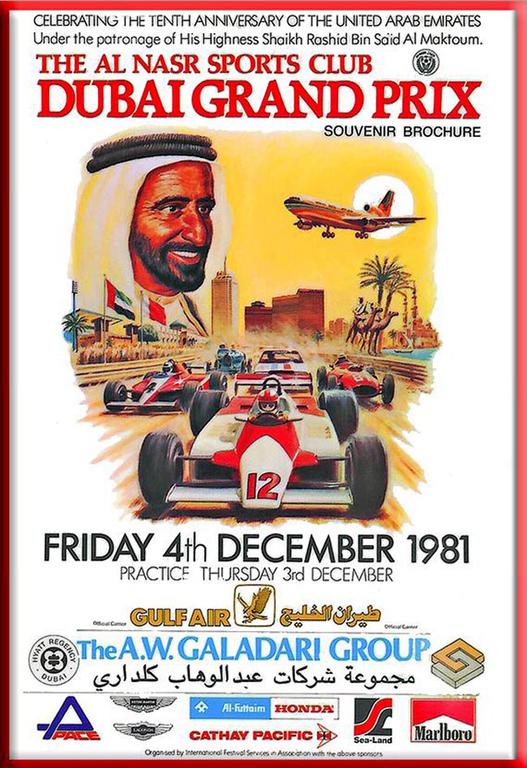 The Dubai Grand Prix is born! But good things don't always come in pairs. If the event uses the oh-so official "Grand Prix" label, it's far from being a real one. This Grand Prix, which will be held on December 4th, 1981, is actually a concentrate of races and demonstrations. Still, there will be F1 cars in the Gulf. Just two though.
Shook sheiks aren't automobile-savvy yet, so they give the organisation keys to Martin Hone. This British entrepreneur has been desperately trying to make a motor racing event happen in his city of Birmingham for years now. The Dubai GP, if successful, would possibly allow Hone to get some elected representatives in his pocket…
THE RACETRACK
You already know, the UAE flat and desert scenery is one of the best place in the world to build a racing circuit. A 1.6-mile-long semi urban temporary circuit is erected, right in the middle of absolutely nothing.
1981 Dubai is very different to the Dubai of today. There's very little roads, a few skyscrapers, and almost no 8-star hotels. Only the Hyatt Regency, quite new at the time but one of the oldest hotels of the region, breaks the monotony.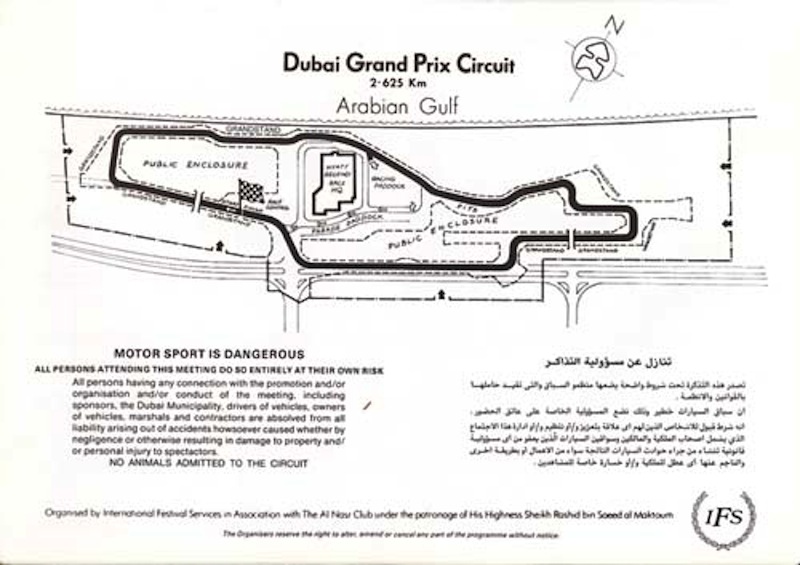 Let's be real, the track itself is not very exciting. It mostly consists of useless chicanes and 90° corners "a la Phoenix". The worst part is, the circuit isn't even licensed by the motorsport governing body, the FIA! And this event loudly trumpets that it is a Grand Prix… That's the last straw.
OPULENCE
Oddly enough, the quality of entered cars and drivers is beyond belief. Martin Hone had put on a big spread: touring cars, GTs, endurance prototypes, classic racecars, and, you guessed it, F1 cars!
Those cars are a mixed bag. For example you can find one hell of a precious gem such as a Fangio-driven Mercedes Benz W196, a Maserati 250F, a Nimrod prototype making its first official outing, a Ferrari 512S… Even the prestigious Aston Martin Owners Club UK made the trip to Dubai! Hone isn't a prophet in his country… but he knows who to call, that's for sure!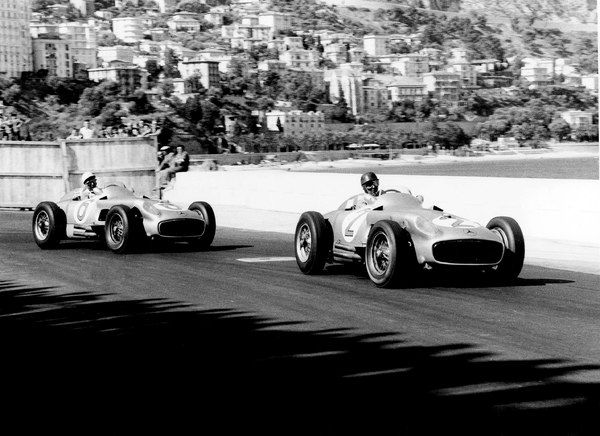 As for the driver cast, it's straight outta Hollywood: more than fifty drivers, professionals and amateurs, signed up for this event. There are very, very big names: 70-year-old living legend Juan Manuel Fangio, three-time F1 world champion Jack Brabham, Le Mans 24 legend Derek Bell, and even Pink Floyd drummer Nick Mason!!
Such cars, such names, all gathered on a pure racing land. There's a hitch somewhere, innit? Think again! All promises are kept. The grand opening is one big celebration. Big sedans, buggies, motorcycles, go-karts… Everyting within easy reach is asked to parade on the wide avenues of Dubai, including the policemen! The conductor is no other than Walter Cunningham, former NASA astronaut and Apollo 7 member, the first US mission to carry a crew into space!
LEGENDS VS LEGENDS
What's going to make the 1981 Dubai Grand Prix famous is its opening race, the main event of this day. Of course I'm talking about the race with these racing old chaps and those Formula 1 new superstars! Let's take a look at the field:
ENTRY LIST
#01 John Watson – McLaren F1 driver
#02 Sir Jack Brabham – three-time F1 world champion
#03 Denny Hulme – F1 world champion
#04 Bruno Giacomelli – Alfa Romeo F1 driver
#07 Stirling Moss – four-time F1 runner-up
#08 Phil Hill – F1 world champion AND three-time Le Mans 24 race winner
#09 Roy Salvadori – Le Mans 24 race winner
#10 Richard Attwood – Le Mans 24 race winner
#11 Derek Bell – Le Mans 24 race winner
#14 Innes Ireland – former Lotus F1 driver
#15 John Fitzpatrick – IMSA GT champion
#16 Dan Gurney – Le Mans 24 race winner
#17 Patrick Tambay – Ligier F1 driver
#18 David Kennedy – former Shadow F1 driver
#19 Marc Surer – Theodore F1 driver
Reserve driver : David Piper
That's motorsport biggest chesses right there (plus David Kennedy). And if you don't know, reserve driver David Piper is a former endurance driver, tragically best known for his part – and his amputated leg due to a crash – during the making of Steve McQueen's 1971 "Le Mans" movie… Once again, nothing is left to chance in Dubai.
DRIVING THE CHEVRON
One word of advice: don't trust what you see on the Internet. I've done tons of research on the World Wide Web about this obscure Grand Prix. And on many websites it was written in black and white that Keke Rosberg and the one and only Nigel Mansell raced there. Wrong! John Surtees, Mansell, Brian Henton, Rosberg, Helmut Marko and Carroll Shelby, unofficially entered but actually didn't drive in the Emirates. So next time, just be careful.
Whether Mansell being present or not, the organisers needed a car as marvellous as the talent of these racing drivers. Which sports model is going to be chosen? Audi had just revealed its Quattro whereas BMW had a plethora of M1 Procar in the bag. So, Audi or Bimmer? The final decision is cristal clear and as simple as ABC. After all, nothing is too good for the Emiratis. Drivers will be racing with… Citroën Visas?!!
However, mainly because of the appalled face the drivers made discovering this French gem, the Visas were quickly replaced by the "premium-er" CX model. And the unique reason of this sudden change lies in the organisers will of selling the cars to the rich spectators!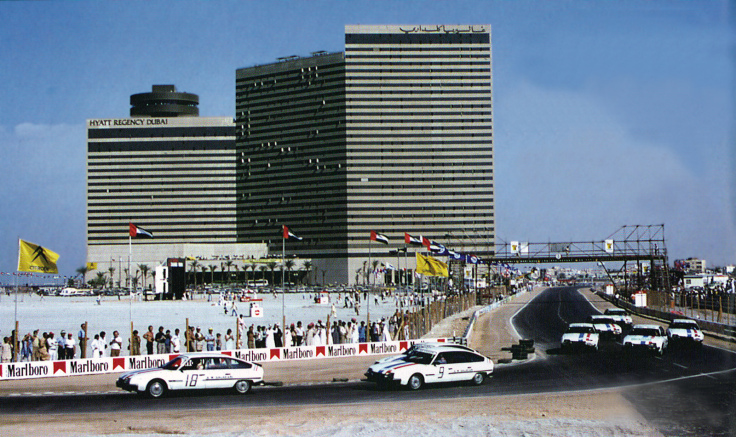 Stirling Moss racing Jack Brabham in Citroëns? Never in the French automobile industry history did we had such great advertisement.
Nevvver.
FAIR PLAY
Top-notch drivers, superb sports cars, and a high-level racetrack. This race simply can't go wrong, don't you think?
The day before the event, during qualifying, some drivers were deliberately cutting corners to gain time. One of those culprits is Dan Gurney. Thanks to this debatable driving technique, the racing legend puts his CX on the front row! And before the race starts, Gurney tries to convice others to set off in reverse! Rather than taking this event seriously, Gurney only came here to take the piss.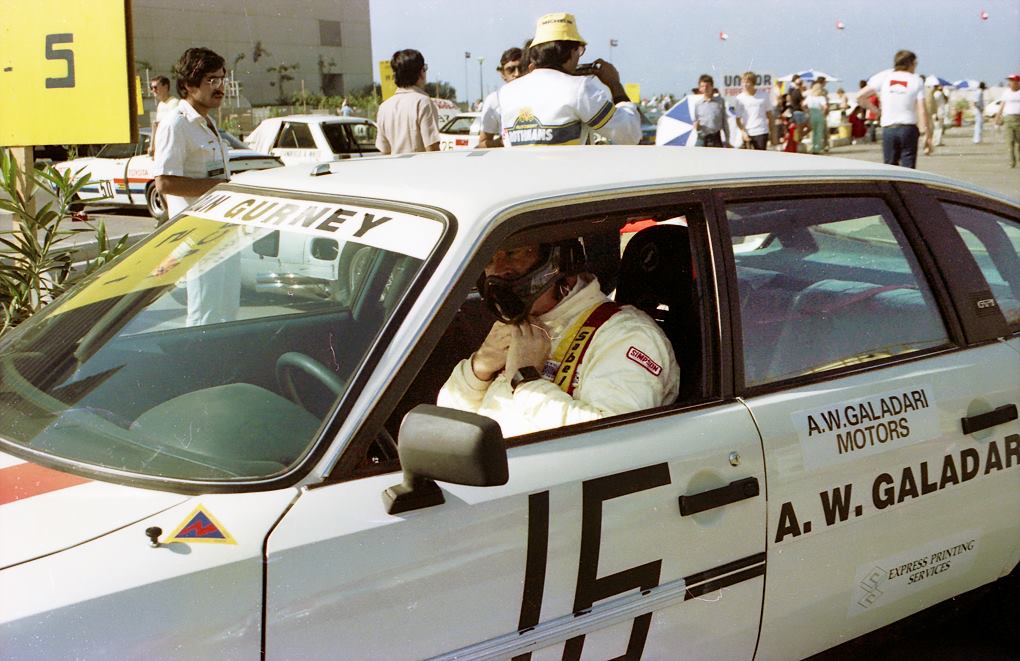 Was that predictable? This gentlemen drivers race turns into a good ol' fashioned American Demolition Derby. Lap after lap, everyone gives up on the fine driving techniques and rather go for the opponent's rear bumper. Indeed, it's way more effective.
Because it's Christmas time and I love to spoil you guys, I've got my hands on the full race retransmission. On the French version of Formule moy1, you have the lifetime opportunity to hear me commentate. On here, it's just the original stuff. Sorry.
1981 DUBAI GRAND PRIX: CLASSIFICATION
Bruno Giacomelli
Marc Surer
David Kennedy
Innes Ireland
John Fitzpatrick
Dan Gurney
Derek Bell
Richard Attwood
Did not finish:
Patrick Tambay – Lap 8
Jack Brabham – Lap 6
Roy Salvadori – Lap 4
Denny Hulme – Lap 3
Phil Hill – Lap 2
Stirling Moss – Lap 2
John Watson – Lap 1
Despite the CX being a good (s)turdy car, almost half of the field retires throughout this 10-lap race. The first retirement comes during the first lap, when race leader John Watson is spun off by Marc Surer. This confusion allows Bruno Giacomelli to take the lead from lap 1 to the chequered flag. Irishman David Kennedy almost snatches second place in the last lap after an astounding comeback drive: Kennedy was collected by multiple drivers on lap 2, headed back dead last and cut many, many corners to finish on the podium!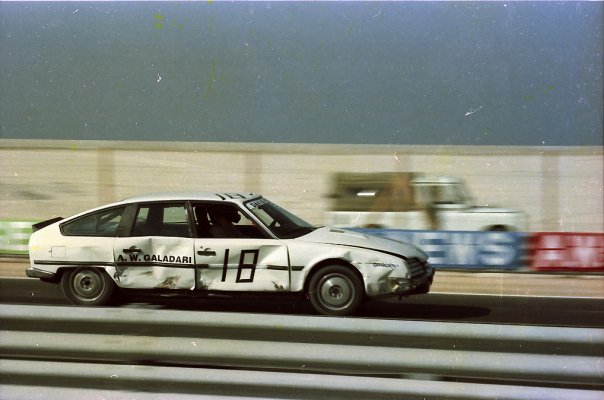 Len Chapman, was one of the lucky boys that saw this chaos live. When interviewed by Abu Dhabi newspaper The National, Chapman says:
"Everyone remembers the Citroen race. The Citroen owner in Dubai was approached about providing some saloon cars and he clearly thought he would provide a few cars, they would take them away, drive them around the track and bring them back again in pristine condition. They were the most unsuitable cars for motor racing; it was the last car you would have motor racing in. I don't think any of them survived the event."
GRAND BAZAAR
This race is one big testimony: the 1981 Dubai Grand Prix doesn't gel at all. During the two days where cars were on track, different events made Martin Hone upset.
AIRWOLF
A little less conversation and a little more Porsche, please. German driver Hans "Joe" Wiedmer drove in the prototype race. The guy was a former CanAm regular in the 1970s. And it's fortunate, in Dubai he will be at the wheel of the same Porsche 917/10 he used to drive back in the days: 5.0L bi-turbo engine, 1100 horsepower, 800 kilograms. Oh boy, it's a pure beast.
But according to Wiedmer himself, the Porsche ground clearance is way too low to go from the airport up to the racetrack. The most logical choice is to… lift the car by a helicopter! But a couple of miles later, the cable suddenly snaps and the poor Porsche princess freefalls from an astronomical height of three meters…
PATRICK AGAINST GOLIATH
Early on, I've told you that Formula 1 cars raced there. Let's talk about this for a second. There were no proper races though, only demonstration laps. However, the organisers had challenged the drivers to a fast lap shootout. The guy with the fastest lap time would receive $5000 as a winning prize! But the FIA spoiled the whole thing and forbade any lap record attempt for obvious safety reasons. Due to the wind and the CX madlads, there was more sand on the tarmac than on the outside! 
Even if the FIA said "no-no", dough will be given anyway to, quote, "the most meritorious driver"! Patrick Tambay took off first with a rather uncompetitive Theodore TY01. After three attempts, Tambay clocks a 68 second-lap. John Watson is next. Unlike the Frenchman, the McLaren man drives a carbon fiber monocoque which makes the car a whole lot faster. So Watson destroys Tambay's time and lowers the mark to 64 seconds!
So, who is the most meritorious? The French underdog that did well despite an horrendous car or the British ogre literally flying with his McLaren spacecraft? The judges adjudicated the matter and John Watson wins 5K. A great consolation prize after Marc Surer's terrorist attack during the CX race.
FANGIO FRIGHTENS
Last but not least, Juan Manuel Fangio. El maestro accepted the invitation and took the first flight from Buenos Aires, Argentina. It seems that Fangio can't wait to get back in his Mercedes W196 because as soon as his plane lands, he refuses to rest! By the way, Fangio was 70 in 1981 and he travelled for approximately 18 hours!
To make matters worse, Fangio was keen on having a very fragile health. The day before the Grand Prix, the five-time F1 champion drives his Merc for a couple of laps. And that's just enough for him to pass out behind the wheel!! The car spins, when the marshalls come to see what's wrong they find Fangio unconscious!
Fangio is immediately transferred to the nearest hospital where he rests for several days. Fortunately, the Argentinian is more shook than injured. However, they would be no maestro on track the next day. Phill Hill subs Fangio, the American will drive the W196. Fun fact, Hill spun aswell, but this time it was just a driving mistake…
EPILOGUE
Despite millions of pounds being invested, and despite the presence of a high quality field, there will be no second edition of the Dubai Grand Prix. Martin Hone heads home but he will eventually win the organisation of his "Birmingham Superprix" in the middle of the 1980s. And the FIA will grant to the UAE an "AOC" Grand Prix 28 years later with the oh-so beloved Abu Dhabi GP.
And what about the race with motorsports legends featuring Citroën CXs? Did anyone dare to steal this brilliant concept? Of course someone did! 1988 is the birth of the Race of Champions: an international automobile event where the best drivers of the globe race eachother, driving impossible cars on a god-awful circuit… The Dubai Grand Prix legacy lives on.
---
Why not clock the fastest lap on Formule moy1 Facebook page and Twitter account? You won't miss new articles when they (eventually) drop!